dBpoweramp [Multi Encoder]
Multi Encoder is able to encode using two or more encoders at the simultaneously, for example Rip an Audio CD to both FLAC and mp3.
Compression Options

Add Encoder
adds a new encoder, the encoder selection page is very similar to Music Converters: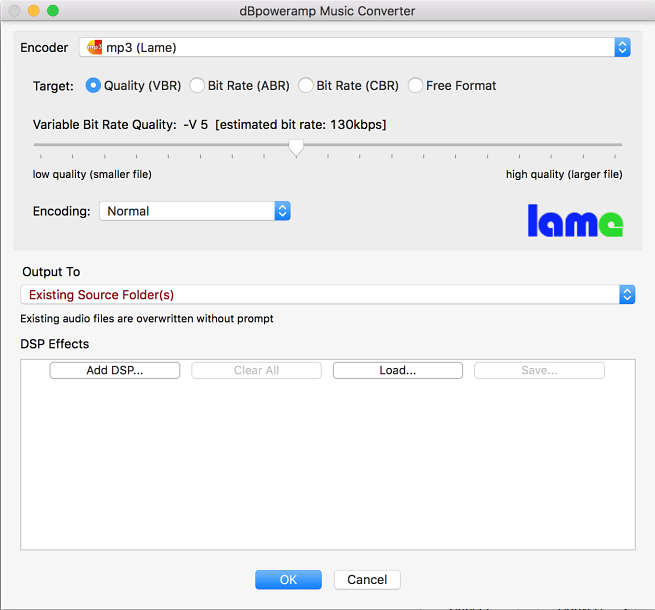 Output To sets the folder converted files are saved, click to customize the naming:

Edit Dynamic Naming substitutes programmable elements, such as [artist] and replaces with real values from the ID Tags. The value from Folder is combined with Dynamic to generate the final filename, it is very flexible. Further Naming Details [dBpoweramp Reference required]
Existing Source Folder(s), converted tracks are written to same folder as the original.
Single Folder: a folder of your choosing, change with Browse
Preserve Source Path allows the selection of a base folder, into which the full source path is then added and source filename


CD Ripper Default Naming:

[IFVALUE]album artist,[album artist],[IFCOMP]Various Artists[][IF!COMP][artist][][]\[album]\[track] [artist] - [title]

Further Dynamic Naming Details
Important: When using multi-encoder the source audio file (file converting from) must not be overwritten, this can lead to unpredictable results.
DSP Effects / Actions
just as with Music Converter live DSP effects, or actions (such as changing the ID Tags) can take place whilst converting.
Multi-CPU
(dBpoweramp Reference option) allows Multi Encoder to use multiple CPUs at the same time.

Main Index