TuneFUSION ™
Overview
TuneFUSION has one purpose: automatically synchronize your audio collection to various devices:


USB removable flash drives,
Mobile foobar2000,
Network Shares,
FTP.
Synchronization
When synchronizing a music collection for your car, you might want to choose a favorite subset of your music, create a new album selection, change the audio format and normalize all tracks to the same volume, TuneFUSION can do all this with ease. TuneFUSION will automatically sync when the device appears on the system.
Customize TuneFUSION once to meet your requirements, set and forget.
Adding a Synchronization
After installation TuneFUSION appears on the taskbar in the system tray section (on OS X it appears all the time in the Dock):





If the TuneFUSION icon is hidden click the arrow button to customize shown icons.

This icon displays the current status of TuneFUSION:


| | |
| --- | --- |
| | TuneFUSION is running, but not actively syncing. |
| | TuneFUSION is synchronizing. |
| | An error occurred during the last sync. |


Click on this TuneFUSION icon to bring forward the settings page: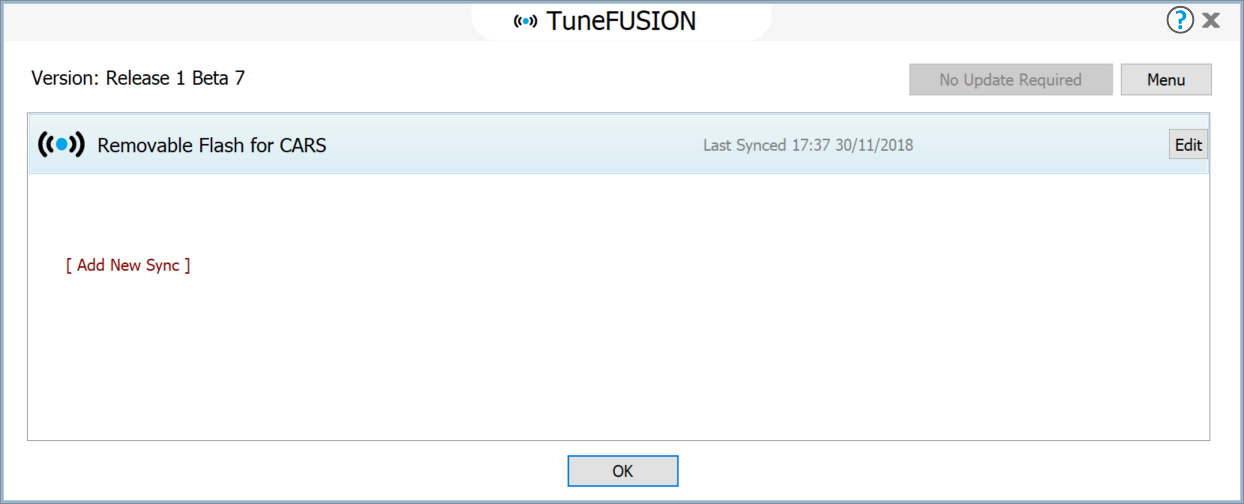 Click

[Add New Sync]

to create a new synchronization and choose the type of sync required and follow the instructions on the screen.

By default when creating a removable disk synchronization, the settings are pre-populated for most compatibility, also the tracks are adaptive volume normalized (see the DSP section), this will continuously adjust the loudness of a track so it can be heard in a noisy environment, such as car.

To receive help from within TuneFUSION click




Continue Help: Customize Synchronizations





Support



Having a problem with dBpoweramp? visit [Online Support Forum]