Installation On Windows Home Server
Windows Home Server 2011
Download the WHS 2011 Asset install to your PC (which is used to connect to WHS 2011 through the Dashboard), then run the application from this PC and it will install on WHS. After install open the dashboard to view the new Asset UPnP tab.
Windows Home Server v1
Download the Asset UPnP installer (AssetUPnP-WHS.msi), save this install to your PC, do not run it. Look in Computer >> Network for your Windows Home Server Machine, browse to the folder: \\[servername]\Software\Addins (if asked for a username and password, enter Administrator and the password used to setup the WHS machine). Copy and Paste the AssetUPnP-WHS.msi (or the registered install) install to the folder: \\[servername]\Software\Addins,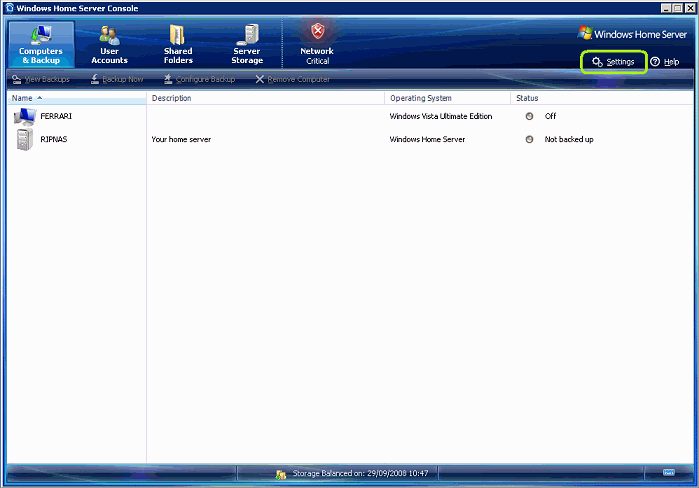 Choose Add-ins. Note if installing a registered Asset UPnP where there is an existing unregistered trial of Asset, the existing Asset should be uninstalled (from the Installed Tab click Uninstall), before installing the registered Asset.

Click the Available tab, then Install (next to Asset UPnP):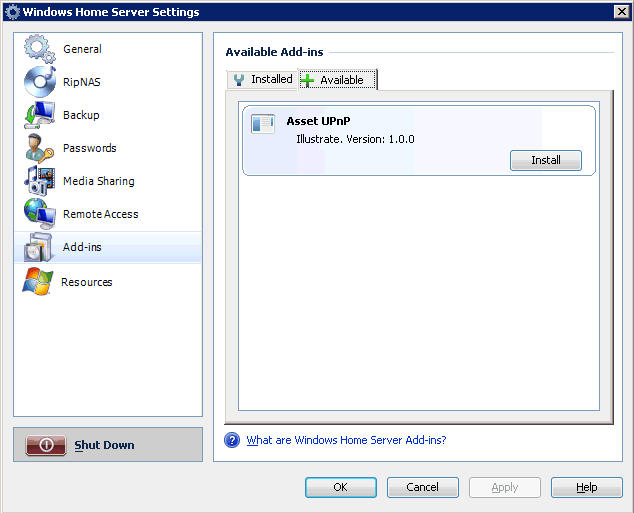 Asset Operation
Straight after installation Asset is fully operational automatically sharing all tracks contained in the Music folder (it will take a few minutes to scan the tracks and add them to the library). Asset watches the Music folder for changes and updates automatically. Asset's settings page can be found by selecting the Asset tab on the Windows Home Server dashboard.
The location of Assets configuration folder on Windows Home Server 2011 is (first remote desktop connection to WHS): C:\Windows\SysWOW64\config\systemprofile\AppData\Roaming\dBpoweramp\uMediaLibrary
'Asset Collections' functionality is unavailable on WHS, should it be required, remove Asset from WHS, remote desktop to WHS and install Asset for Windows 7, then configure Asset to run as a service.
Continue discovering Asset Functionality >>
Having a problem with Asset? visit [Support Forum].